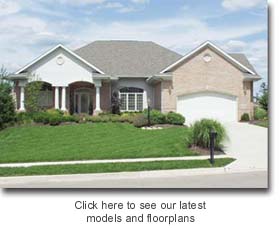 At Candlelite, Northgate Estates, and Willow Creek we put the "unity" back in community. Nearby tennis courts, parks, shopping, golf courses, churches and country clubs keep those looking for an active lifestyle as happy as those looking for a quiet community.
You'll have lower heating bills, lower taxes and lower maintenance, which will give you more time and money to enjoy your lifestyle. Call today to find out how you can enjoy your lifestyle in one of these communities.
Visit our sales office at:

Candlelite Estates
1730 Yellow Rose Court
Fairborn, Ohio 45342
Phone: (937) 318-8280
Open:
8:00 -12:00 and 1:00 - 5:00 Mon. through Fri.
12:00 - 6:00 Sat. and Sun.
or contact us at info@candlelitehomes.com